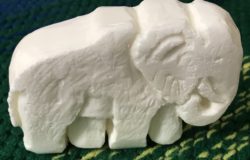 Posted on February 7, 2018 by sharon in Carving, Dabbling.

A lesson done at work/school – and I haven't taught it in years. I'm not a carver and get anxious about 'taking away' bits! I don't see it as a true carver would. My go-to animal is the elephant. Then I looked up African symbols and like this one meaning bravery – which I needed in […]

Continue Reading... No Comments.